Articulating Cranes Bring Big Benefits to the Tree Industry
An interview with Mark Moeske, President of Allmark Tree & Crane Service.
Allmark Tree & Crane Service is a family owned and operated tree care and crane company in New York's Capital District. Committed to providing reliable, professional, and quality tree and land clearing services, Allmark takes a low-impact approach to its tree services and great pride in what they do.
How did Allmark get started?
I started the company in 1988, between my two years of college, as a part-time gig. We went full-time in 1994.
We're a family business now, but we didn't start that way. My father did a little bit of a small clearing, but he had an office job. He also sold firewood. I started out as a landscaper but realized I wanted to just be an arborist and focus on trees.
What has your biggest challenge been in the last year?
Keeping up with the workflow! Since COVID hit, our workload has doubled. At one point we had 100 people on a waiting list just to get estimates. So keeping up with that demand in terms of staffing has definitely been a challenge.
Wow. Now, you use a crane in your work. What inspired you to do that?
I had experience working in this older crane in a previous job. I really liked crane operation, and even though I wanted to become a great climber, I saw the potential of incorporating a crane. I always liked equipment.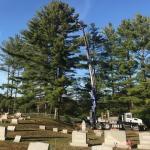 And now you use an articulating crane. What do you see as the advantage of using that equipment? How do you use it?
The big advantage for me is that the crane is remote-controlled. So I can operate the crane and climb the tree; and both are necessary in our line of work. I have some spectacular climbers on staff, and the crane helps us work even more effectively.
If I'm working at a two-story house, I may need to reach way out in the backyard or over the house. There are different cranes that can work depending on the setup, but I love the versatility of the articulating crane.
It's nice to be able to get into places where you couldn't otherwise.
How does the crane affect the amount of time you need to take a tree?
It makes the job at least twice as fast; three or four times as fast in some cases. If I can reach out 100 feet, I can go a 75 foot radius over the front of the truck, grab a tree, and set it 75 feet behind me. In a matter of two minutes, I just moved it 150 feet. And you can do it without major stress on an employee's skeletal system, without trip hazards or fall hazards. It's just so much safer.
Speaking of safety, arborists have been using bucket trucks or climbing trees for decades. What are those safety considerations like?
Provided they're done in the proper way, both methods are fairly safe. Just like anything, you've got to have people who know what they're doing. You're often constrained to use one method based on the amount of space you have available.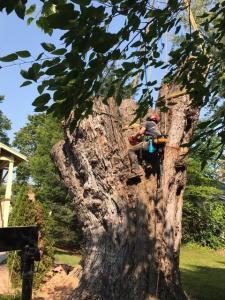 You're using some very high-tech equipment, especially for the tree industry. How do you think that affects your work overall?
It's a very positive thing because I've done everything, from doing everything completely by hand, including carrying the stuff out of a yard, to working with some pretty good-sized cranes. I also do a lot with the construction industry and have had construction training through the union.
I think of it as cross training, which is valuable to anybody because you'll learn a lot of different things. I think our industry inherently has more risk because there's more unknown and less certainty on some of the stuff we do; you don't always know what something is going to weigh before you pick it up. That's what makes this business unique.
Many thanks to Mark Moeske for spending the time with us to do this interview. Be sure to visit Allmark Tree & Crane Service on the web!